Located on the South Fork of Eastern Long Island in New York, the Hamptons form a group of luxuriously rural seaside communities that present a highly desirable place to visit and live. While some people inhabit the area year-round, many New Yorkers also turn to the region as a coveted, upscale summer beach destination just 80 miles east of New York City.
Stunning luxury homes sprawl throughout the area's numerous hamlets. Towns and villages dating back to the 18th century dot an idyllic landscape, and picturesque farmlands and neighborhoods with their unique architectural styles create a feeling of small-town wonder that can be hard to pass up.
Generally speaking, people come to the Hamptons for relaxation, sun, wind in their hair, and stunning beaches. There's no hustle and bustle of daily life in the city, and certainly no subway rumbling underfoot as you stroll down the local sidewalk. The entire area has this in common. This being said, each Hampton hamlet has its own vibe. With historical roots in Puritan England's varied industries, ties to the art world, and "ocean-centric energy," visiting is the best way to immerse yourself in these great getaways.
Southampton
Essentially, the Hamptons are two townships: Southampton and East Hampton. Historically, Southampton was New York's first English colony, settled back around 1640 when a group of settlers came to the area from Lynn, Massachusetts. Up until this time, the area of Long Island was inhabited by the Shinnecock Nation, the largest tribe in the area, and the Dutch, along the western end. ("Shinnecock" means "People of the Stony Shore," and today, descendants still live in Southampton on the
Shinnecock Reservation
. This is a self-governing group with around 1,200 members).
The Lynn settlers made landfall at a location later named Conscience Point and founded the settlement of Southampton. Today's town is named after the Earl of Southampton, a port city located on the south coast of England that was made famous in recent history as the departure point for the ill-fated Titanic.
Southampton, New York, has 18 hamlets and seven incorporated villages. These hamlets include:


Bridgehampton

East Quogue

Flanders

Riverside

Northampton

Hampton Bays

North Sea

Noyac

Sag Harbor

Sagaponack

Southampton

Shinnecock Hills

Tuckahoe

Water Mill

Westhampton

Speonk

Remsenburg

Eastport-Quiogue
Southampton is home to numerous bed and breakfasts, vineyards, beaches, and cafes. It is also the location of the region's only hospital. As the commercial center of Long Island's southern fork, Southampton thrives year-round, especially in the busy months when eager New Yorkers come from near and far to indulge in the great relaxation and privilege the area offers.
Notable hamlets
Bridgehampton
Bridgehampton is a quaint, quiet, pastoral area located at the center of the Hamptons. If you are a horse lover, you may have already heard of it! This hamlet is home to
The Hamptons Classic
, a world-famous horse show that draws top-level equestrians from around the world each year.
As a Grand Prix horse jumping event, this represents one of the larger horse shows hosted in the United States and a vibrant social event. The show is held over Labor Day weekend as a grand finale affair, marking the end of the summer season.

As a vacation destination, Bridgehampton is abundant in nature's greenery, the key to winding down to a slower daily pace of life. Bridge Gardens is a five-acre botanical garden with an array of beautiful vegetation, and Long Pond Greenbelt offers a wilder side. This nature preserve spans 600 acres, rife with coastal ponds. Mecox Beach and Ocean Road Beach offer serene blue skies and space.


Sag Harbor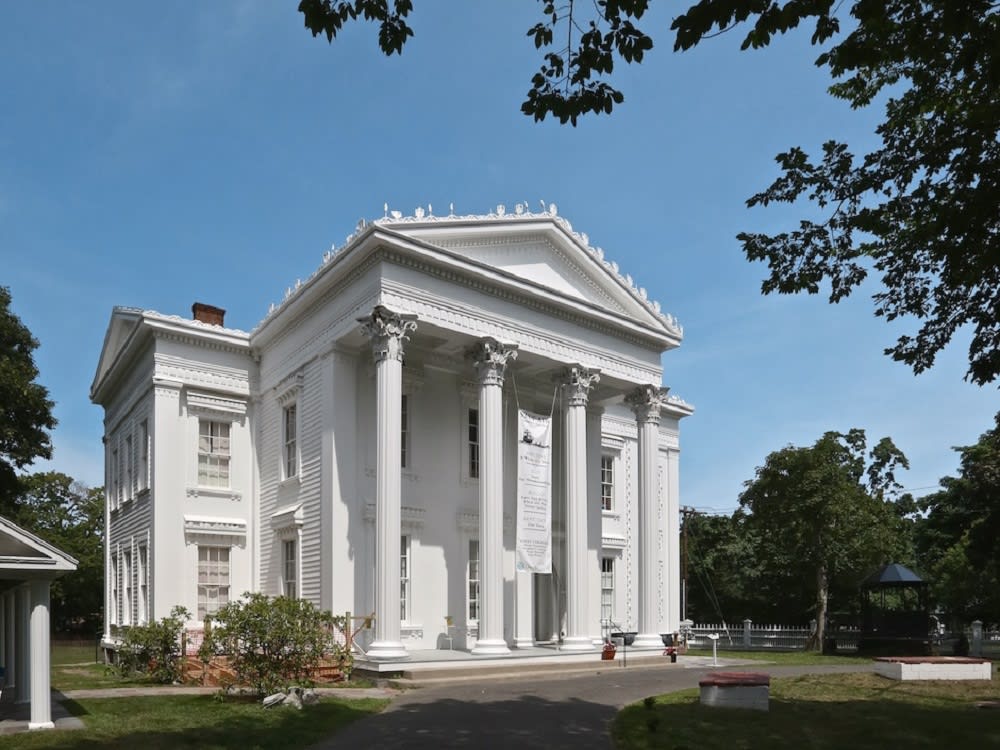 Photo courtesy of Art & Architecture Quarterly
Famous for its boats, beaches, and fun, Sag Harbor is a beautifully attractive and culturally rich hamlet. Haven's Beach presents vast, sandy expanses ready to help you relax and tune out.
The Sag Harbor Whaling and Historical Museum
opens doors to days past with a collection of harpoons, whaling ivory, and shipbuilding tools, among other treasures. In addition, the Bay Street Theater and Sag Harbor Center for the Arts are home to many shows that premiered or were first developed locally and later moved to Broadway.
Hampton Bays
Hampton Bays answers with conviction when it comes to the call of immense sandy beaches and endless ocean vistas. Located between Shinnecock Bay and Great Peconic Bay, this area is ideal for watersports, swimming, and soaking in the sun. Modern homes, beautiful gardens, and fine dining also take the stage.
Local lore
While the Hamptons may seem worlds away from culture-packed New York City, the region has been and still is, graced by its fair share of glitz and fame. Numerous celebrities, artists, and authors have called the open airs of Southampton home- or at least, a home-away-from-home. Jackson Pollock, Roy Lichtenstein, William Merritt Chase, Fairfield Porter, Robert Motherwell, Larry Rivers, Elaine de Kooning, and Andy Warhol are some of the names and famous faces that have graced the region at one time or another.
As a summertime retreat from the city, an ideal place for a vacation home, or a place to lay down year-round roots, the hamlets of Southampton bring the unique combination of rural life infused with rich culture: a perfect place for your next home.
East Hampton
Similar to Southampton, East Hampton's roots date back to the 1600s. This area was the third region settled by colonists from England, following Southold and Southampton. Like Southampton, it sits on the south fork of Eastern Long Island. Famous for its gorgeous beaches and small-town appeal, East Hampton once prospered as a central hub for whaling and fishing.

Several colonial homes and historic buildings have survived the test of time, giving the area a unique flavor. These include the Hook Mill windmill and the boyhood home of John Howard Payne.

As what was once a remote farming village in the early 20th century, the picturesque and idyllic landscape offers serenity and calm to those who seek it. Soaring elm trees, stunning colonial homes, abundant greenery, and the surf call make the East Hamptons a perfect summer getaway and an attractive location for living year-round.

East Hampton comprises the village of East Hampton as well as the following five hamlets:


Notable hamlets
East Hampton
Filled with lush greenery, rolling luxury estates, and countryside tranquility, the village of East Hampton is a beautiful location for visiting and living. Numerous sandy beaches line its shores, casual and high-end restaurants dot the main downtown streets, and exciting activities abound. Take surf lessons, go on a yoga retreat, learn to paint, and more.


The Pollock-Krasner House and Study Center showcase Pollock's studio and gallery he shared with the artist Lee Krasner and his wife during the 1950s. Visitors can revel in the birthplace of his unique art. The Parrish Art Museum also is not to be missed. Finally, boutique shopping in the area offers a solid selection of jewelry, clothing, and items for your home.


Montauk

Situated on the Atlantic Ocean and Block Island Sound, the hamlet of Montauk is home to stunning beaches. This area represents an American paradise for those who love to dine on seafood, go fishing, surf, and paddle around.
You can find the historic Montauk Point Lighthouse in Montauk Point State Park, and natural trails in the area provide ample space for a relaxing Saturday afternoon stroll.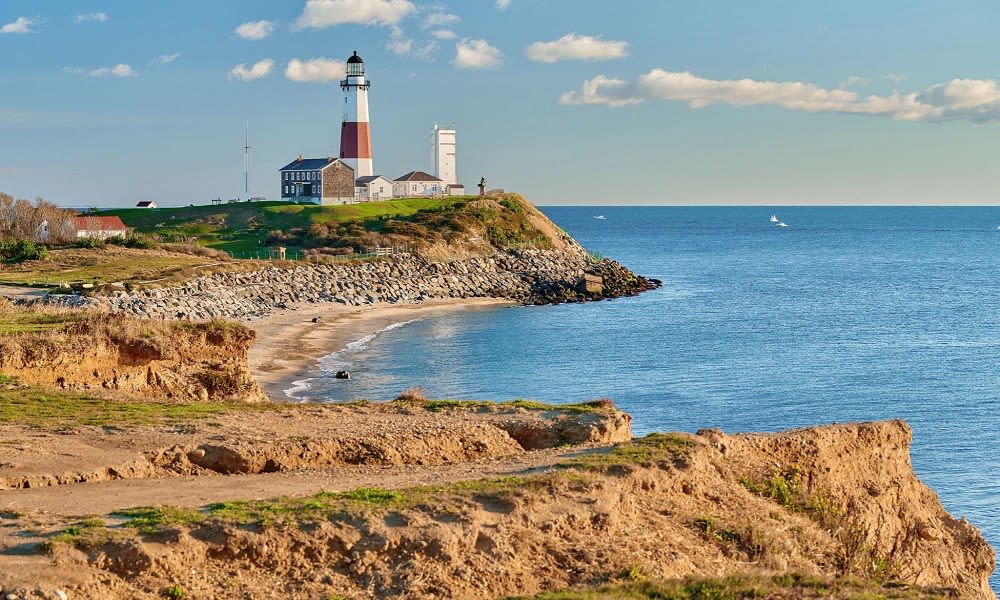 Wainscott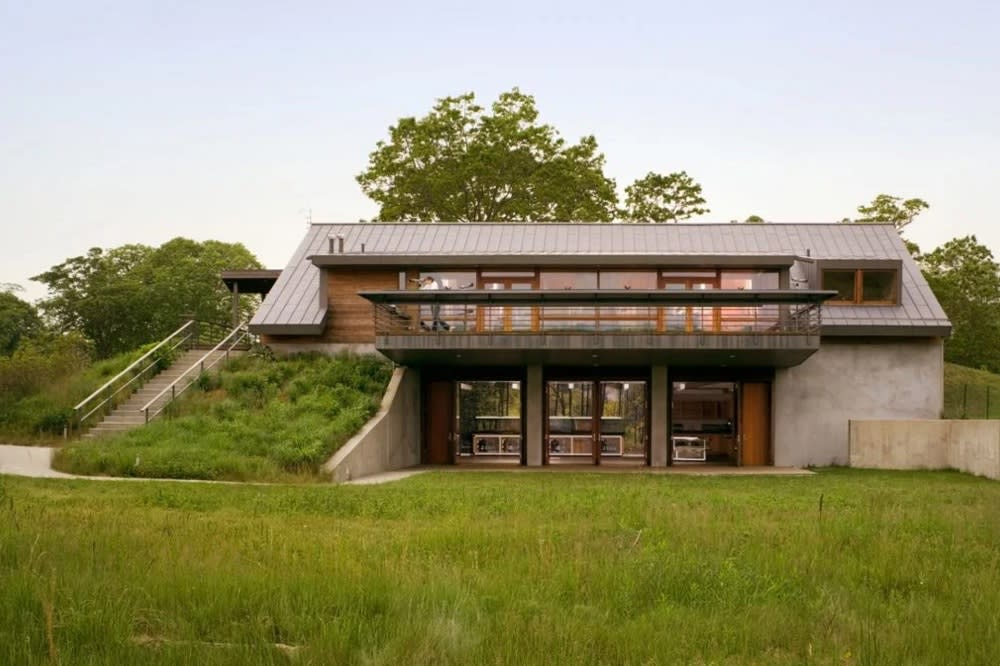 Photo courtesy of East End Getaway

The hamlet of Wainscott sits on the northern tip of the southern fork of Long Island and is named after Wainscott, Kent, near Maidstone, England. Facing the Atlantic Ocean to the south, Wainscott sits nestled between Sagaponack and East Hampton villages. You can lull your days away on its pristine beaches and visit the
South Fork Natural History Museum and Nature Center
. The nearby Wolffer Estate Vineyard in Sagaponack is an excellent place for wine and lunch. As a producer of premium wines, spirits, and ciders, this is also a prime location for weddings and private events.
Local lore
As with Southampton, many notable people have graced the shores of East Hampton over time. Among them are Harriet Beecher Stowe, the author of Uncle Tom's Cabin, Anderson Cooper, Neil Patrick Harris, and Brooke Shields.

As beachside locations infused with the allure of luxury and quaint countryside living, the hamlets of Southampton and East Hampton have much to offer. An exquisite summer climate and gorgeous countryside present the added attraction of being just a couple of hours outside the bustling metropolis of New York City.

An ideal location for summer family living, these hamlets offer access to world-class water sports, a thriving grassroots arts scene, notable places of historical interest, and a community of like-minded individuals seeking the respite of the seashore.
With the best in East Hampton real estate, extravagant living in rural America doesn't get much better than this. Local real estate agent
Jonathan Milioti
can answer your questions about properties for sale in the area.
Contact
Jonathan today to get started!
*Header photo courtesy of Business Insider